AINU Happi
PRODUCT DETAIL
・ Iron through a piece of cloth at 120 °C or less.
・ May be laundered with household detergent. Do not use bleach.
・ Please be mindful that storage in warm, humid conditions may cause color transfer.
 
  
  
buy
This garment has been produced by taking high-resolution photographs of tapestry embroidered with Ainu patterns, then utilizing sublimation transfer printing technology to decorate a happi coat. Each provides the opportunity to appreciate the texture and intricate beauty of hand-embroidered Ainu patterns.
PROFILE
Happi dotto Tokyo
Established a made-to-order happi coat brand in 2015.
This offers an unprecedented view of happi with full customization of fabric, patterns, designs, and sewing.
They offer a number of original designs and series to suit different use situations, and offer a conception of the happi coat as a new, particularly Japanese promotional item.
They have since received requests from government agencies, major companies, and various organizations for events and campaigns, and can offer proposals for a wide range of needs.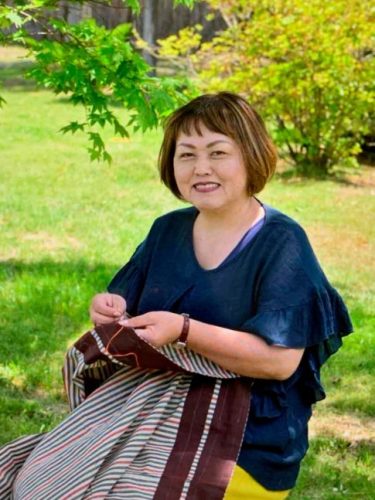 Maki Sekine
Ainu craft artist/Born in Biratori Town     
While helping at her family's folk craft store in Nibutani from childhood, she became involved in various traditional Ainu crafts such as wood carving, weaving, and embroidery, along with makers involved in these traditions. In addition to winning awards at art competitions, she has held solo exhibitions in Tokyo and Osaka.
She works at promoting Ainu culture through various opportunities and media beyond crafts, such as serving on various committees and promoting awareness of Ainu culture.